Shop News
Sim Sessions
---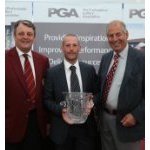 Have you taken advantage of one of our Sim Sessions with Mitch or Wayne??
Tuesdays and Thursdays
4pm until 8pm
Book a free taster session and see if you can beat the pro or take advantage of a free equipment check.
Come along and play a course on our FlightScope simulator
Have a matchplay with friends or against the Pro
Have a lesson to further understand your game better through gapping sessions, distance control sessions and club adjustment sessions
Contact us via the 'book now' tab below to book your session in our Indoor Studio!